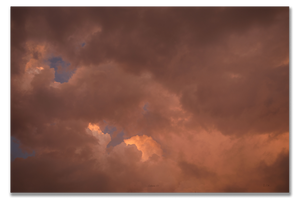 Each photo from the Cloud Series is a 1 of 1 edition and labelled and signed by Ben Williams

Choosing between frames, acrylics & prints
There are three types of artwork finishes available:
Frames and acrylics are ready to hang while rolled prints are great for framing at a later date especially if they need to be posted internationally.
Framing
Acrylic Face-mount Photos
Acrylics are an impressive and modern way to hang your artwork and is 5 times the strength of regular glass. The photo is printed on fine art paper and bonded to acrylic glass giving the image a bright and sharp look.
Because it's frameless it can suit a wide range of interiors without needing to match colours like traditional framing.
Proudly made in Australia, photos are printed on acid free, archival grade professional photographic media and the sealed image is protected from the elements such as moisture in the air, temperature and humidity changes and most of the harmful UV light from the sun is filtered out by the acrylic glass
A hidden hanging system is attached to the back of the acrylic which allows easy hanging and creates an approximate 20mm space between the photo and the wall producing an impressive floating effect.
Fine Art Prints
Beautiful museum grade fine art prints are perfect for framing at a later stage or posting internationally. They come rolled in a tube
The Process
Ben Williams takes great care throughout the entire process of creating a photo from the moment when the shutter exposes the image to the final step of creating the final framed image.
1. Order Placed
Photos are ordered through the website in the size and frame type then the photo is prepared and sent to the printer.
2. Printed
All photos are custom printed to order with the highest quality printing locally in Sydney. Meticulous attention to detail is taken to make the photo look as amazing as it possibly can.
3. Signed
The artwork is signed with a small signature on the bottom right of the artwork
4. Edition Numbered
The photos are limited to 20 editions (labelled 1/20) and 2 artist proofs (labelled AP 1/2) and are labelled in small text on the bottom of the photo. Once all editions of any size or framing type have been created then no more are available for sale and no other versions of the photo will be printed again.
5. Verification Badge
On the back of each artwork there is a verification QR code badge that when scanned displays a digital certification of authenticity including the edition number, photo details and artwork owner to show that the artwork is genuine.
6. Framed
The photo is then carefully hand crafted in Sydney to the selected frame type ensuring the highest quality, beautifully finished artwork for your wall.
7. Shipping
Once the photo has been printed and framed it is packaged and shipped with great care so the artwork arrives safely.
How are the artworks made?
Artworks are taken as high resolution so you can walk up to the photo and see fine details up close.
All artworks are printed as museum quality fine art prints designed to look bright and impressive on your wall for decades. Each photo is custom made to order locally in Sydney, Australia and turn around time is 2 weeks from the date of purchase.
Each photo is limited to 20 signed editions, once 20 have been sold no more will be available for sale.
Frequently Asked Questions
 How many editions are available of each photo?
Only 20 signed editions of each photo are available, once 20 have been sold the photo will no longer be available for reproduction.
Where are the photos Australian Made?
All photos are taken by Ben Williams and are printers and framed locally in Sydney, Australia
How long does delivery take?
All artworks are custom made to order and delivered between 2 to 3 weeks from the date of purchase
What types of products are available?
There are three types of products available; unframed prints, framed prints and ready to hang acrylic face-mount photos.
Fine art prints
These are unframed prints and delivered securely rolled so they can be framed later. This is a good option if you will be travelling with the artwork or if you're planning to have it framed later.
Frames
Frames come in black, white or oak and are a beautiful and traditional way to present a photo on a wall. Photos are custom framed locally in Sydney.

Acrylic Facemount
Acrylics are an impressive and modern way to display an artwork. Acrylics are frameless which means they can match different interior styles and colours.
Can custom sizes be made to fit a specific wall size?
Yes, custom sizes can be made. The best way to organise a custom size acrylic is to contact us here. The maximum possible size of custom acrylic is 4 metres x 1.8 metres.
Is pickup available?
At the moment pickup isn't yet available although shipping is free throughout Australia
  Ready to hang frames and acrylics
  Limited edition with certificate of authenticity
  Australian made
VERIFIED BEN WILLIAMS GALLERY CUSTOMER
"We bought a photo from Ben of our favourite beach and we could not be happier"